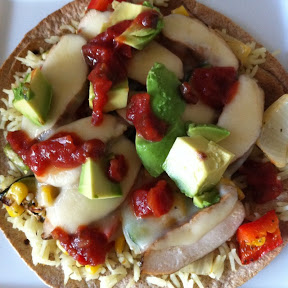 Serves 4
4 Cups of roughly chopped veggies
1 ½ TB olive oil
1/8 tsp salt
Black pepper to taste
Dash of Cayenne Pepper
Whole wheat tortillas
One cup uncooked favorite rice
2 cup chicken stock
Sliced Chicken Breast (optional)
4 Slices of Provolone Cheese
1 Avocado
Salsa
Roasted Veggies
I always have veggies in the fridge. Use whatever you have. Today I used Zucchini, Roma Tomato, Red Bell Pepper, Frozen Corn, Frozen Okra, and Yellow Onion.
Roughly chop all your veggies and add to a big bowl. Add the salt, olive oil, black pepper and cayenne pepper. Mix and place in baking sheet.
Pop the veggies in the oven on Broil for 10 minutes
Rice
I use Basmati rice. It's a 1 to 2 ratio = 2 cups of liquid for 1 cup of rice. Instead of water I use chicken stock, but you can also use veggie stock.
Add rice to chicken stock. Bring to a boil and then set to simmer. Cook covered
for about 20 minutes or until fluffy.
The Final Product
Place two tortillas at a time on the baking sheet. Place in oven till toasted, then pull out and add a layer of rice, and layer of veggies. Add the sliced chicken breast if you are using that and lastly the slice of provolone cheese.
Place back in oven till cheese is melted.
For the finishing touches, add diced avocado and salsa.
Enjoy.